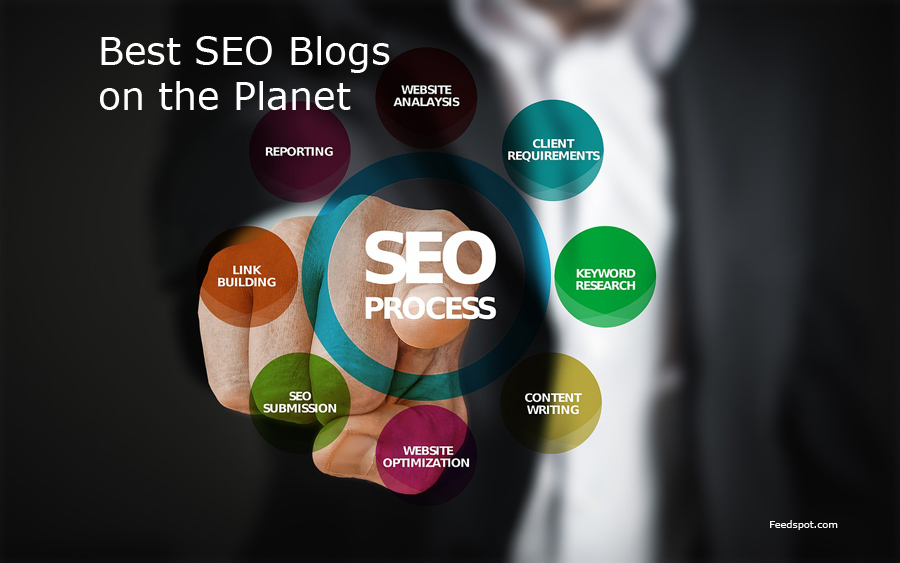 SEO Blogs List
The best SEO blogs from thousands of top SEO blogs in our index using search and social metrics. Data will be refreshed once a week. Also check out SEO Podcasts & SEO Videos from Best 10 SEO Youtube Channels.
If your blog is selected in this list, you have the honour of displaying this Badge (Award) on your blog.

About Blog The purpose behind the Search Engine Roundtable is to report on the most interesting threads taking place at the SEM (Search Engine Marketing) forums. It provides a well-rounded view on search engines and search engine marketing from five segments of the Web population represented by senior members of the major SEO/SEM forums on the Internet.
Frequency about 42 posts per week.
Blog seroundtable.com
Facebook fans 25,050. Twitter followers 49,187.

Seattle, Washington About Blog The Moz inbound marketing and SEO blog provides tips, tricks, and advice for improving websites and doing better search, social, content, and brand marketing. Moz develops inbound marketing software, provides robust APIs for link data and social influence, and hosts the web's most vibrant community of online marketers.
Frequency about 3 posts per week.
Blog moz.com/blog
Facebook fans 261,916. Twitter followers 539,716.

Everywhere About Blog Search Engine Land features daily search engine industry news & trends in search marketing (SEM) – paid search advertising (PPC) & search engine optimization (SEO) plus expert analysis, advice, tips, tactics & How To Guides for search marketing.
Frequency about 21 posts per week.
Since Dec 2006
Blog searchengineland.com
Facebook fans 196,516. Twitter followers 437,998.

Awesometown, USA About Blog Search Engine Journal is dedicated to producing the latest search news, the best guides and how-tos for the SEO and marketer community. It focuses on digital marketing, SEO, social media, content marketing, paid search as well as entrepreneurial and agency life.
Frequency about 42 posts per week.
Blog searchenginejournal.com
Facebook fans 172,303. Twitter followers 189,834.

About Blog This blog includes the simple process that works to turn ice cold prospects into happy customers. Neil Patel helps companies like Amazon, NBC, GM, HP and Viacom grow their revenue. The Wall Street Journal calls him a top influencer on the web, Forbes says he is one of the top 10 online marketers, and Entrepreneur Magazine says he created one of the 100 most brilliant companies in the world.
Frequency about 2 posts per month.
Blog neilpatel.com/blog
Facebook fans 926,431. Twitter followers 326,821.

Wijchen, the Netherlands About Blog On our popular SEO blog, you can find articles on how to use our plugins, plus posts on content SEO, technical SEO, WordPress, social media, and much more. Yoast writes about several topics like General SEO, Usability & Conversion Rate Optimization, Analytics, eCommerce, Social Media and, of course, WordPress.
Frequency about 3 posts per week.
Blog yoast.com/seo-blog
Facebook fans 301,153. Twitter followers 106,561.

SEW HQ About Blog Search Engine Watch provides tips and information about searching the web, analysis of the search engine industry and help to site owners trying to improve their ability to be found in search engines. It is an authoritative guide to search engine marketing (SEM), search engine optimization (SEO), paid search advertising (PPC) and social media marketing.
Frequency about 6 posts per week.
Blog searchenginewatch.com
Facebook fans 43,856. Twitter followers 203,576.

Boise, ID About Blog PAGES is the quarterly print magazine about SEO. Subscribe to discover where SEO fits into your marketing strategy. Explore expert insights, industry news, and SEO resources for digital marketing professionals.
Frequency about 4 posts per month.
Blog pagesseomagazine.com
Facebook fans 228. Twitter followers 350.

About Blog Neil Patel (CrazyEgg & Kissmetrics) and Eric Siu (Growth Everywhere & Single Grain) bring you daily ACTIONABLE digital marketing lessons that they've learned through years of being in the trenches. Whether you've just started a website or you manage millions of pageviews, Neil & Eric will help you take it to the next level.
Frequency about 7 posts per week.
Since Jul 2016
Blog mschool.growtheverywhere.lib..
Facebook fans n/a. Twitter followers n/a.

About Blog Subscribe us to get articles on SEO from Sophie Williams.
Frequency about 2 posts per month.
Blog medium.com/@metricfoxweb
Facebook fans n/a. Twitter followers n/a.

Philadelphia, PA USA About Blog SEMrush's digital marketing blog is an innovative resource for content strategy, content marketing, SEO, SEM, PPC, social media and more. SEMrush is the market leader in online marketing software. Our goal is to provide our customers with indispensable data to gather a deep understanding of competition and market trends, determine a long-term content strategy for organic and paid research, and conduct an overall website analysis.
Frequency about 1 post per month.
Since Jun 2012
Blog semrush.com/blog
Facebook fans 140,008. Twitter followers 95,939.

About Blog Ahrefs is the ultimate website analysis toolset for SEOs and Integrated Marketing Professionals with the largest and most updated database of live backlinks. Its mission is mission is to help you get seen on the Internet by providing the most competitive intelligence data that is available on the Internet in the most timely fashion.
Frequency about 1 post per week.
Blog ahrefs.com/blog
Facebook fans 76,668. Twitter followers 37,172.

About Blog Brian Dean is the founder of Backlinko, a traffic generation business that specializes in link building, SEO, content marketing, and conversions. He helps business owners who've been beat down by Google so they can get their rankings and search traffic up using specialized strategies you can't really find anywhere else.
Frequency about 1 post per month.
Blog backlinko.com/blog
Facebook fans 20,811. Twitter followers 83,539.

About Blog Serpstat is used for in-depth competitor analysis and building advertising campaigns. Serpstat does keyword and domain research, provides analysis on organic and paid keywords, level of competition and cost per click.
Frequency about 2 posts per week.
Blog serpstat.com/blog
Facebook fans 2,484. Twitter followers 2,373.

St Petersburg, FL About Blog The HOTH is a white label SEO & Local SEO service that allows Agencies, Affiliates, and SEO Consultants to focus on getting richer, instead of wasting time doing tedious SEO.
Frequency about 1 post per week.
Blog thehoth.com/blog
Facebook fans 21,779. Twitter followers 4,294.

Palo Alto, CA About Blog SE Ranking is a cloud-based platform for SEO and online marketing professionals that provides a complete set of tools for comprehensive site audit, competitor analysis, website ranking, keyword suggestion and grouping, backlink monitoring, automated professional reporting, and much more.
Frequency about 3 posts per month.
Blog seranking.com/blog
Facebook fans 8,604. Twitter followers 2,196.

About Blog GrowthHackers.com is the premiere destination for growth hackers to collaborate and get inspired to build effective growth marketing programs. The SEO category of the blog features some of the coolest tips to get you website on a better rank.
Frequency about 6 posts per week.
Blog growthhackers.com/tags/seo
Facebook fans 29,811. Twitter followers 72,102.

Worldwide About Blog The Search Engine Optimization category of the SEOprofiler Blog provides information on how to get better rankings on Google and other search engines.
Frequency about 2 posts per week.
Blog blog.seoprofiler.com/categor..
Facebook fans 893. Twitter followers 1,769.
SEO Blogs By Type
Local SEO Blog
Search Engine Journal | Local Search
About – Search Marketing Advice, News, and Tutorials Search Engine Journal is dedicated to producing the latest search news, the best guides and how-tos for the SEO and marketer community.
Mobile SEO Blog
Search Engine Watch | Mobile
About – Search Engine Watch provides tips and information about searching the web, analysis of the search engine industry and help to site owners trying to improve their ability to be found in search engines.
Enterprise SEO Blog
seoClarity Blog | SEO Platform for Enterprises & Agencies
About – The seoClarity blog contains the latest insights on the SEO industry's biggest challenges and newest innovations.
Ecommerce SEO Blog
Practical Ecommerce | Marketing
About – Its mission is to provide down-to-earth articles and commentary to help ecommerce businesses. Ecommerce marketing strategies and news to help you succeed online.
Black Hat SEO Blog
Black Hat World
About – BlackHatWorld (BHW)is an internet forum owned by Damien Trevatt focused on Black-hat search engine optimization (SEO) techniques and services, often known as spamdexing.
SEO Blog for Beginners
MOZ | Beginners Guide To SEO
About – The Moz inbound marketing and SEO blog provides tips, tricks, and advice for improving websites and doing better search, social, content, and brand marketing.
SEO Blogs By Country
ROI.COM.AU Blog
About – ROI.COM.AU is a Digital Marketing Agency founded in 2006. A team of Digital Strategists, Creative Designers, Data Analysts, Technical Doers and Customer Service stars, we combine our forces to deliver better results for our clients.
StewArt Media
About – We are one of Australia's most respected digital marketing companies and provide Digital Marketing services including; Search Engine Optimisation (SEO), Paid Advertising, Conversion and Content Optimisation.
Bon Fire
About – At Bonfire, our business is built on the expertise and experience of some the industries finest, across an array of digital disciplines; SEO, AdWords, Web design & Social.
Dejan SEO
About – DEJAN team is a group of highly talented online marketing professionals with a wide range of skills including research, strategy, paid campaigns, organic SEO and content marketing.
SEO Resellers Canada Blog
About – SEO Resellers Canada's informative blog offers the latest in SEO news and tactics.
Search engine People
About – Born out of search marketing, we have spent nearly two decades evolving our expertise across multiple channels to offer a full service of digital solutions..
TechWyse
About – TechWyse is a Full Service Online Marketing company that helps small and medium business get to the top of Search Engines and Social Media through expert execution and customer service.
Click Consult Blog
About – Keep up to date with the latest SEO, PPC and Social Media developments with the Click Consult Blog.
Distilled
About – We're Distilled, an online marketing agency. The SEO category features news, tips and trends about SEO from the blog.
Built Visible
About – The SEO blog by Builtvisible provides advanced organic tactics and advice from the team at Builtvisible.
SEO Hong Kong
About – Blog includes pure SEO and towards the concept of inbound marketing, content marketing, social media and similar interesting topics.
Justmychoice – SEO Academy
About – We write about the latest trends, tips, and tricks on SEO & Digital Marketing.
Best SEO Advice
About – All SEO Tips For Beginners and Latest Updates about bookmarking site list, classified sites, all SEO Tips For Beginners, Forums, Directory List and much more only on Best SEO Advise.
Techmagnate
About – We are a complete SEO company that consults and implements your entire digital marketing strategy. This includes everything from re-designing your website, to SEO services, to Online Reputation Management to developing online applications to engage your customers.
Social Beat
About – Social Beat is one of India's leading digital marketing solutions company enabling businesses to build their brands and achieve business results via the digital medium. Integrated digital marketing solutions including user experience consulting, social media marketing, content marketing, Search Engine Optimisation, digital advertising & influencer marketing.
Creative SEO Nepal Blog
About – Creative SEO Nepal is a center of excellence for the business willing to solve all the queries related to SEO, conversion rate optimization, Content writing, Link building, Pay per click, Social media marketing and more.
New Zealand
Pure SEO Blog
About – SEO Blog by Search Agency in New Zealand. We know how to grab the attention of your audience, drive engagement and ultimately grow your business.
Found | Online Search Specialists
About – We provide SEO and Content Marketing. We grow businesses with inbound marketing. .
Click Through
About – A full service search and social marketing agency providing best practice digital marketing and e-learning services for over a decade.
SEO in Romania
About – SEO Information Blog in Romania.
Cognitive SEO
About – We, at cognitiveSEO, have put the best effort to create a tool-set that will help you rank and monitor your sites better. We are building the most advanced SEO toolkit, commercially available today. It is the first application that will make large scale SEO analysis & tracking feel like a breeze.
Russian SEO Blog
About – Russian SEO, Yandex SEO, Russian Social Media, PPC campaigns for worldwide customers looking for Russian audience.
Russian Search Tips
About – My name is Anna. I am a Russian expat living in Stockholm and I am the author of Russian Search Tips – the first blog in English dedicated to digital marketing in Russia. Russian Search Tips for me is a way to share the information I believe is valuable and to find people, who share the same interests and passion.
OOm | SEO Agency Singapore
About – Our mission as an agency is to empower and help companies achieve positive returns through digital with our proven digital methodology.
Impossible Marketing
About – Impossible Marketing Pte Ltd, a Google Partner Company, is a homegrown Internet Marketing Company that specializes in taking websites to the top of Google search results for greater traffic and lead generation.
Media One
About – MediaOne was the pioneer digital marketing agency to support white hat SEO, and prove that it could be done successfully so that our clients could rank up high and rank up robustly.
Sri Lanka
SEO Sri Lanka Blog
About – SEO Sri Lanka is considered to be one of the most reliable seo company in the Sri Lanka, providing specialist services in search engine optimisation, pay per click management as well as cutting edge technologies such as social media.
GO – Gulf Blog
About – Founded in 2005,GO-Gulf has grown from a web portal development company into an International and online web application design and development company.
Chain Reaction
About – Chain Reaction is a strategic digital marketing agency based in Dubai with offices across the Middle East. We offer a range of digital marketing services to both local and international clients from multiple industries specially in Search Engine Optimization.
Hobo SEO Blog
About – A UK SEO blog by Shaun Anderson. I blog about search engine optimization and internet marketing technology.
Matthew Woodward | Tried & Tested SEO
About – My name is Matthew Woodward & If you want to learn internet marketing over the shoulder of an established expert this blog is for you.
Craig Campbell SEO
About – Craig Campbell is a no-nonsense expert who has been doing SEO for 16 years. In this time he has built up a wealth of experience in SEO and other digital marketing services.
SEO UK | SEO Information,Advice and Tips
About – SEO makes ranking at the top of Google easy. A proven and powerful SEO formula to get you more customers and make you more sales. Here you will find Incredibly useful and actionable content to help you increase your online visibility.
Search Engine Land
About – Search Engine Land is a leading daily publication that covers all aspects of the search marketing industry.
Moz
About – At Moz, we believe there is a better way to do marketing. We focus on search engine optimization (SEO). The industry's top wizards, doctors, and other experts offer their best advice, research, how-tos, and insights—all in the name of helping you level-up your SEO and online marketing skills.
Search Engine Journal
About – Educating and empowering the SEO community by providing the freshest news and latest best practices via the industry's smartest practitioners. Virtually all of our contributed articles come from real online marketing experts, both independent and in-house.
Digital Gecko Caracas Blog – Online Marketing Agency
About – We take care of ideas for your brand. or company, effective communication strategies and we provide you with the necessary tools to boost your business and get positioned to the fullest.
These blogs are ranked based on following criteria
Top 100 SEO Blogs Winners
CONGRATULATIONS to every blogger that has made this Top SEO Blogs list! This is the most comprehensive list of best SEO blogs on the internet and I'm honoured to have you as part of this! I personally give you a high-five and want to thank you for your contribution to this world.
If your blog is one of the Top 100 SEO blogs, you have the honour of displaying the following badge on your site. Use the below code to display this badge proudly on your blog. You deserve it!:
This content was originally published here.